Your first class is free.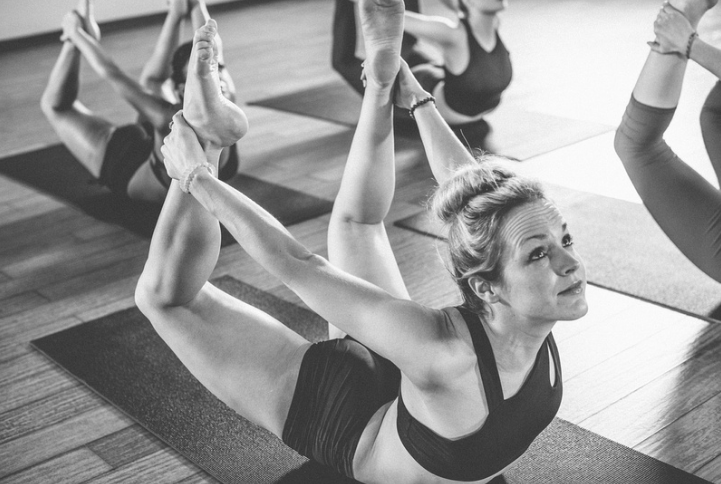 "The most important thing to remember: It is YOUR class. Enjoy it, make it what you want, fill the time there with what you need."
We are excited to have you join us and to enjoy your journey! Here are some pointers to help you prepare for your first class.
How do I prepare for my first class?
Please arrive 15 minutes before scheduled class. Discuss any injuries or health issues with the teacher before class. Wear something you're comfortable sweating in. Breathable fabric is most desirable. Women mainly wear fitted capris or shorts and a sports bra or tank top. Men are normally most comfortable in shorts and a t-shirt. Hydrate, hydrate, hydrate! Come to class on an empty stomach. Yoga mats, large towels, and bottled water are required in the studio. Please bring your own or we have them available for rent or purchase. Stay in the studio room for the full duration of class, this will help your body build endurance and calm your mind.
Why is the practice room heated?
The heat helps you you sweat; sweat detoxifies your body by flushing toxins from your blood and metabolic waste from your muscles. This enhances blood flow so that more blood (and oxygen) is delivered to the muscles, joints, and the endocrine, thyroid, and lymphatic systems bringing natural healing and balance back to your body. The heat makes muscles more elastic and pliable which allows for deeper safer stretching, while thinning the blood increases your heart rate for an excellent cardiovascular workout.
Is this a cardiovascular workout and can I lose weight?
Absolutely!! Regardless of your fitness level, hot yoga can be challenging. Muscles are toned and strengthened and all the body's systems are brought into balance. With consistent practice you will see pounds and inches disappear.
Is there anyone who should not practice hot yoga?
Use caution if you have high blood pressure, particularly low blood pressure, or are pregnant or nursing; please consult your doctor before class.
How old do I need to be to take class?
We welcome all students over the age of 15 at Sumits Hot Yoga, however, IF YOU ARE BETWEEN THE AGES OF 15-17 YOU MUST HAVE A PARENT OR LEGAL GUARDIAN SIGN FOR YOU PRIOR TO TAKING CLASS. If you are under the age of 15 we're excited to have you as soon as you turn 15. Any exceptions to this must be approved PRIOR to the day of class, there are NO EXCEPTIONS made the day of or right before class. It's fun to take yoga as a family, and we do offer family plan pricing!. Parents, please contact us regarding consent forms and authorization for your child.
What method of payment do you accept.
We take Cash, Visa, Master Card (both credit and debit card), American Express and Discover Card. For the community classes it is helpful if you pay in cash, this helps the line move more quickly. Community classes are approximately $8 (including tax).
What should I bring with me to class?
Please bring your yoga mat, a BIG towel (beach towel is best), water bottle, an open mind and a positive attitude! If you do not yet have a yoga mat, yogitoes, or a towel we sell and rent them at the studio.
How long are the classes?
Classes times are listed in the class schedule. Sumits Series classes are either 80 or 60 minute classes. Flow and Yin classes are typically 60 minute classes. Other class and workshop lengths vary. Be sure to check the schedule and plan accordingly. Please arrive 15 minutes before scheduled start time to register. If at any point you feel overwhelmed during class feel free to sit or lay down on your mat. As you build the ability to focus your mind and still your body, the struggle will disappear. Please do not walk out of the yoga room during class. Staying in the room helps your body adjust to the heat and helps the teacher know if there was a problem.
How often should I practice my yoga?
We recommend practicing 4-5 times per week to obtain the maximum benefits. You will receive the same benefits with a reduced practice schedule – just in a longer period of time. Yoga is a great addition to any workout or training schedule, helping improve your breathing, endurance, focus, flexibility and much more.
What should I wear?
Lightweight, breathable, and comfortable clothing is recommended. Men are generally most comfortable in shorts, bathing suits and T-Shirts. Women usually wear sports bras, tank tops, shorts, etc. When deciding on how to dress remember you will be sweating, so dress accordingly… but be comfortable! A lot of women prefer to wear a headband of some type if they have medium to long hair, to keep it out of their face. Many people bring an extra change of clothes for afterwards or an extra beach towel to throw on the seat of their car. Practicing in the nude, the exposure of genital areas, buttocks or female breasts is not permitted.
I am both older and not very flexible. Is yoga for me?
ABSOLUTELY! It's important to understand that Yoga is not about flexibility. Yoga is for people of all ages and ranges of flexibility. Yoga is about stretching your spine and body in all directions. From the very first class you will learn the concept of "trying the right way" enabling you to receive the benefits of each pose according to your own ability. You will see and feel the benefits as you progress on your yoga journey. There can be unlimited benefits to people of all ages and flexibility who correctly practice yoga consistently.
Are there rules or etiquette that I should know about?
Please arrive to class at least 10-15 minutes early to register & discuss health issues and or limitations with your instructor. We will show you where to put your personal items and answer any questions you may have.
Hydrate, hydrate, hydrate! Drink plenty of water throughout the day and bring a large bottle with you to class as well. Water is available for purchase at the studio. If you have time throw a bottle in the freezer, the heated room will heat your water as well.
Personal items are not permitted inside the yoga room, please only bring your mat, towel, water bottle, and positive attitude! If you do not have a yoga mat or towel you may rent them from us before class. We lock the yoga studio during class so your things will be safe. That means no cell phones/pagers, bags, shoes, etc are allowed in the yoga room.
The yoga room is a quiet room. Please refrain from conversation inside the yoga room.
Remain inside the yoga room during class. This allows your body to acclimate to the heat. When you feel overwhelmed, just lay down and work on catching and calming your breath.
Gum is not allowed inside the yoga room.
Please do not walk into or leave the yoga room while a class is in session.
For best results we recommend not eating 2 hours before class and make sure to drink plenty of water throughout the day.
During class, if you feel overwhelmed or your heart starts racing please rest in child's pose or savasana at any point, please do not leave the studio room.
The first class is always the hardest, don't wait too long before your next class, that's how you build endurance.